Well guess who watched the Sherlock special yesterday…this girl. I can not say how impressed I am with this show. They always manage to create a wonderful, thorough, and captivating plot (standing ovation for Moffat and Gatiss), and the characters just spring off the the screen. Now I won't give away any of the plot because, well, you know…
However, if you want to tell me any theories you might have, I am all ears. Once again, Benedict Cumberbatch, Martin Freeman, Mark Gatiss, Andrew Scott and Amanda Abbington were phenomenal. Each portraying a their character in a new light with the Victorian era. This special still included the fast-paced deductions and the scintillating banter between Sherlock and, well, everyone else. There were a bit of feels, obviously, and it left me with a thirst for Sherlock season 4 which I only have to wait a year for, but it's 100% worth it.
Anyway, if you have ever considered watching Sherlock for a millisecond, then I beg of you to watch this series. You will not be disappointed in any sense.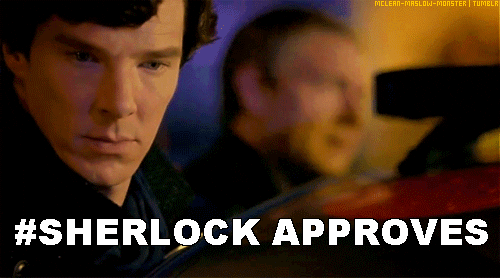 Alright, I promise I'm done with the memes and gifs.